Check out the new digital art gallery in the heart of Coventry
The Reel Store is a brand-new visitor attraction suitable for the whole family, based in the old reel store at the former home of the Coventry Evening Telegraph newspaper. A space that was once the home of the city's many stories has now been transformed into an immersive digital gallery and is welcoming visitors from across the country. 
To keep up to date with The Reel Store, follow @TheReelStoreUK on social media or sign up to their newsletter here! 
What's on
Now open is Machine Memoirs: Space by internationally acclaimed artist Refik Anadol. Two million images of the deepest regions of outer space, captured by NASA and the International Space Station, have been transformed through AI into an immersive cinematic experience of rich and futuristic visuals accompanied by 3D audio.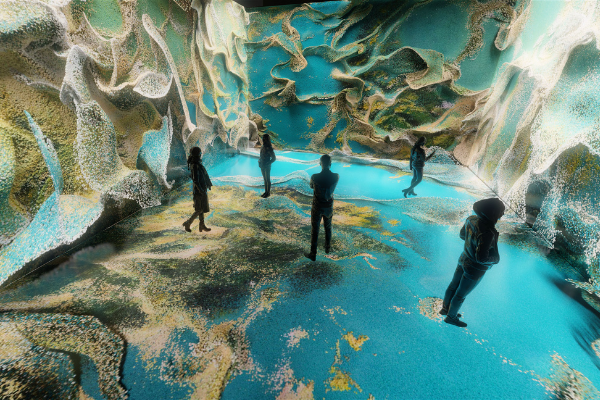 About the artist
Refik Anadol is a pioneer in the aesthetics of data and machine intelligence. He uses cutting-edge technology and big data advancements to creatively speak to the most pressing challenges of our time, and what it means to be a human in the age of machines. 
His work has been shown in over 50 cities, spanning six continents, and experienced by millions of fans. In 2021 alone work has been exhibited at Art Basel Miami Beach, COP26 in Glasgow, ARTECHOUSE in New York, Abu Dhabi, China, Japan and South Korea, as well as major cities across Europe including Istanbul, Milan and Venice. 
Who's it for?
Everyone. It's a 360-degree experience, suitable for the whole family, with an awe-inspiring display that captures the beauty and spectacle of space in waves of colour and light. 
Whether you have an interest in space, are looking to have fun with the family, or want to grab the most instagrammable pictures in the galaxy, this is an exhibition not to be missed. 
Getting there
Just a few minutes' walk from Coventry City Centre, The Reel Store adjoins the Coventry Telegraph Hotel and is easily accessible by bus. 
You can hop on to any of our buses including: 6A, 11, 17, 17A, 19, 21, 24.  Otherwise you can plan your journey with us by using our handy journey planner.
You cannot miss out on this immersive experience in the heart of Coventry! Make sure to book early so you can get the best prices only at thereelstore.co.uk, and don't forget to tag us in your pics using our social channels below!