The Proud Freedom Festival returns to Coventry for LGBTQ+ Pride celebrations
The Yard Coventry is hosting The Proud Freedom Festival (Saturday 28th and Sunday 29th August) in celebration of Coventry's diverse LGBTQ+ community.
The Proud Freedom Festival will fill the Bull Yard with showstopping headline acts including Vengaboys, Atomic Kitten, S Club Party and Five across the Bank Holiday weekend. 
Guests will also be treated to a number of outdoors bars, as well as an exclusive VIP viewing area to catch all the action in style and comfort.
The Festival will showcase the Midlands' finest performers to give the celebrations a regional flair with local LGBTQ+ artists, cabaret and burlesque dancers.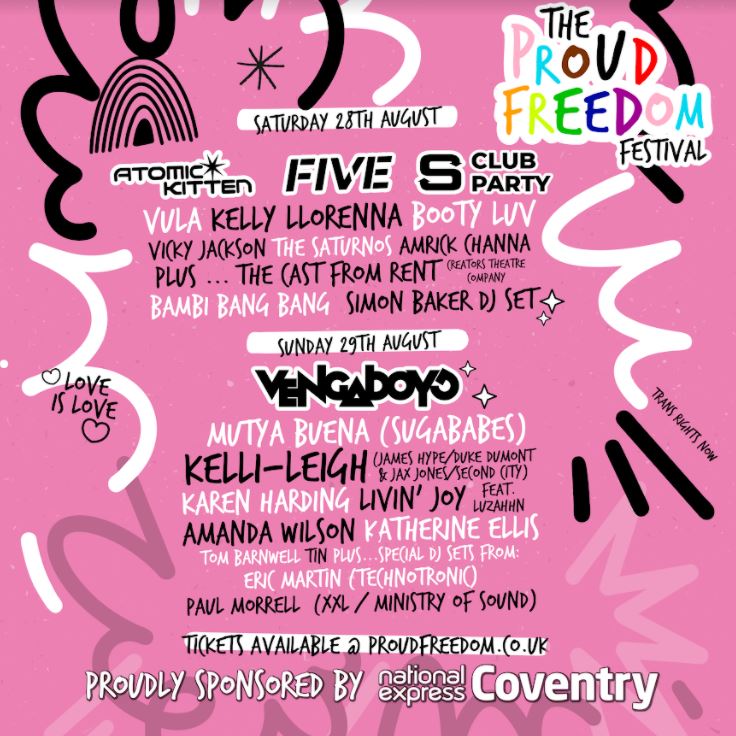 General manager of Proud Festival  Kieran Jones said: "This is the biggest event line-up we've ever had here at The Yard, and we're all really looking forward to our first weekend event of this size since 2019. Since so many local and national events and celebrations have been cancelled or delayed over the past 18 months, it feels great to be one of the first Pride events this year flying the flag for our diverse and beautiful community since restrictions have allowed."
The Proud Freedom Festival will host live entertainment from 2pm until midnight each day of the Festival at The Yard and in the surrounding Bull Yard. The party will carry on into the night, with the bar and nightclub continuing until 4am.
This event is ticketed and strictly 18+, in the interest of safety and capacity management.
General Admission Day, Weekend, and VIP tickets are available now at
proudfreedom.co.uk, from £17.50. The Proud Freedom Festival and The Yard team are thankful for the support of their headline sponsor Coventry BID, as well as Gold Sponsors:
National Express Coventry, Valhalla Client Services, Pet Xi, VK, and McDonald's.
The Yard Coventry is an award-winning LGBTQ+ bar, nightclub and community venue at the heart of Coventry's community, voted as the best Midland's Nightclub and Bar outside of Birmingham. The Yard has previously hosted their "Pride @ The Yard" in association with Coventry Pride, and "Summer of Love" events to great success.
We're proud to be supporting The Proud Freedom Festival in Coventry and to celebrate we're giving away two pairs of VIP weekend tickets for Saturday 28th and Sunday 29th August 2021.