Buses Vs Cost of living
The price of everything seems to be going up, but in the West Midlands there's one thing that isn't - our bus-tastic tickets. On our brill buses, our Day Saver still costs £4 - the same as it did back in 2014. And it still gets you to anywhere in the West Midlands - from Merry Hill to Coventry, as well as out to Cannock and Lichfield; Nuneaton, Rugby and Leamington.
The cost of living has gone up by over 27% since 2014. But our savvy travellers can benefit from years of price freezes on our buses - as well as a fares cut from July last year.
So if petrol, gas and electricity prices are all hitting record highs, how can we keep our fares so low?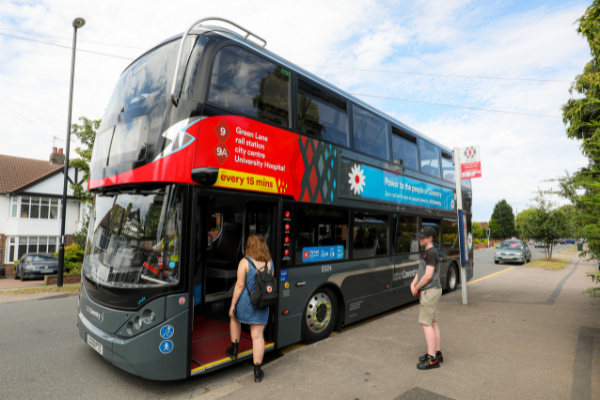 David Bradford, our Managing Director explains:
"Since 2017 we've been absolutely determined to keep our bus fares as low as we possibly can. And last year we went further and cut them back to 2014 levels.
"It's the right thing to do for our customers - we know bus passengers are incredibly smart about value for money. They need to be able to count on us to keep the cost of bus tickets low. And we know our low-fare policy is working, because since we dropped our prices in July 2021, we've seen 6% more passengers on our buses as a result."
Andy Street, the Mayor of the West Midlands, said:
"We know the cost of living is a real concern for people across the West Midlands at the moment, and transport is amongst the biggest household costs for families.
"That's why I have been working closely in partnership with National Express to keep bus fares low. Since 2017 prices haven't risen, and last year we even secured a cut that takes fares back to 2014 levels.
"Passengers rely on us at Transport for West Midlands to keep public transport affordable, and so that's exactly what we're doing."
Our customers don't even need to attempt to work out the best fares - if you simply tap your contactless bank card each time you get on our bus, you'll never pay more than £4 to travel all day anywhere in the whole West Midlands.
In addition, doing a 5-mile journey on our bus puts out half the carbon into the atmosphere than the same journey done by car. So here in the West Midlands, our customers can easily save money while they help save the planet.