From Buses to Beetles - Bodymaker Dave retires after 49 years' service
One of our bodymakers from Coventry has retired from buses, and has moved onto Beetles this week, after almost a half-century of dedicated service with us. 

64-year-old Dave Little from Bell Green passes on his many years of experience to son Chris Little, who is also a bodymaker for us too. 

And while his son continues on our buses, Dave's retirement will see him working on some other vehicles. Chris plans to make use of his dad's time and expertise to restore an old Volkswagen Beetle and two Campervans that he bought.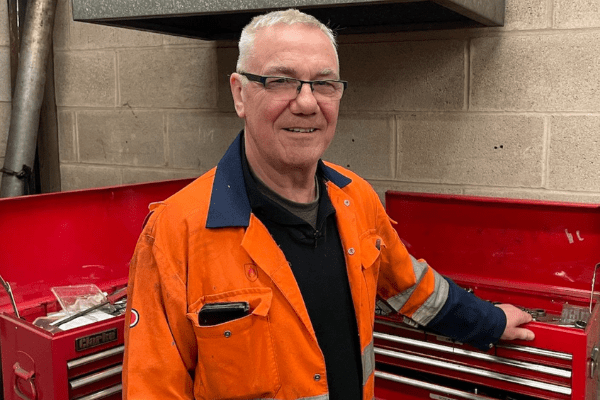 Dave Little started his career aged 15 as an apprentice with us when it was Coventry Corporation Transport. Originally based at Sandy Lane works in 1972, he then moved to Harnall Lane garage and finally to Wheatley Street in 1986, where our current bus garage remains today.

When asked what has stood out to him during his long career with us, Dave said:

"Thinking back over my time with the company, I'll always remember the great craftsmen that I have worked with over the years. 

"As bodymakers we all take great pride in our work repairing any damage caused to buses while they've been out in service. It's very important to us that they go back out looking as good as possible."

Graham Livesey, our Engineering Manager said:

"Dave has been the go-to man with colleagues and supervisors alike when it comes to repairs - I have witnessed on many occasions his wealth of knowledge and experience being called upon in our workshop. His commitment and dedication to the presentation of our vehicles has always been second-to-none."

As well as working on his son's vehicle restoration projects, Dave has bought some carpentry equipment to keep himself busy on his own personal projects. He is looking forward to spending more time with his two grandchildren, aged 1 and 5. He also wants to practice playing golf now that he's got more time to play - although he joked that he's not sure he will have time after all!

Dave's 40-year-old son Chris has been with us for 15 years. For the last five years he's worked as a bodymaker - the first two of which he spent completing a Level 3 NVQ Diploma in Bus and Coach Engineering and Maintenance (body).

Last year Chris was runner-up in the Bodywork Technician category of the national IRTE skills challenge in Bristol. The competition included a series of practical and theoretical tests, challenging the skills and knowledge of bus and coach engineers across the country.

When asked if Chris is anything like his long-serving dad, he said:

"I would like to think I'll stay with the company for a long time, too. In this role I really enjoy using my initiative to work on some of the bigger repair jobs. And, like my dad, I take a lot of pride in getting the buses repaired and looking good so they can get back out on the road as quickly as possible."

We hope you enjoyed reading Dave's journey! Thinking on joining the team? Find out more about our career opportunities here.