City of Culture partnership for National Express Coventry
As a transport partner for Coventry UK City of Culture, we are pleased to be a long-term supporter of the exciting year-long event. We are now making bus travel easier for 2021 City Hosts while they help thousands of residents and visitors attend the many wonderful City of Culture events across the city.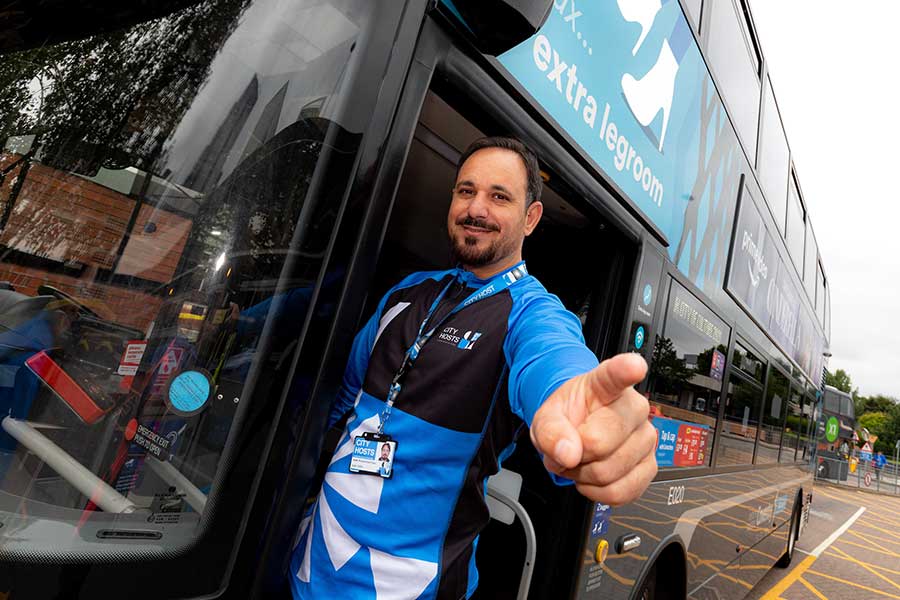 Chris Gibbens, our Commercial Director, said:
"We are delighted to be working in partnership with Coventry City of Culture Trust and to provide this bus travel discount for our fantastic City Hosts. They have a really important role to play, providing local knowledge and support, as well as being a friendly face for anybody attending the exciting events here in Coventry.
"Just like culture, our buses are for everyone, so with a huge network of local bus routes and the cheapest bus fares in England, hopping on one of our buses really is one of the easiest and greenest ways for people across the West Midlands to enjoy Coventry's year as UK City of Culture.
"And as we're also the UK's largest operator of scheduled intercity coach services, National Express provides great value coach travel from hundreds of destinations across the UK. We're so excited to play our part in helping City Hosts, residents and visitors to travel and make lots of new memories this year."
​​Martin Sutherland, Chief Executive at Coventry City of Culture Trust said:
"The Trust is delighted to have the support of National Express Coventry. Our City Host volunteers are playing a crucial role in making our year as City of Culture a success. This new support from National Express Coventry will enable our volunteers to continue to make a positive impact on the city, but in a more sustainable and environmentally conscious way.
"We are thrilled that almost 3,000 volunteers have already signed up to be City Hosts; but it's not too late to get involved. We hope that this new arrangement with National Express will be a further incentive for Coventrians to get involved, providing the warmest welcome and helping visitors to explore the city."
City Host volunteers are a vital part of the UK City of Culture programme. Based at key locations including public transport hubs such as Pool Meadow Bus Station and Coventry Railway Station, the volunteers provide a friendly welcome and farewell to visitors, helping them to navigate around the city, as well as providing information on artworks, installations and events.
Coventry UK City Culture is working with EnV and CUSU to recruit thousands more volunteers for its City Host programme. Free training is provided as well as access to a number of discounts, which now includes free and discounted 5-day bus tickets to travel all day on any local National Express bus in Coventry or the West Midlands. Anybody interested in applying to become a City Host can find out more here.