Team wins outstanding UK Bus and Coach Award
Our UK recruitment team won the trophy for Outstanding Teamwork at this year's UK Bus and Coach Awards for their success in recruiting bus drivers during the pandemic.

Using a newly transformed approach, combined with their dedication and professionalism, the recruitment team delivered an unprecedented number of bus driver interviews and assessments throughout the various stages of lockdown. Over 1,000 bus driver assessments were completed, resulting in 670 bus driver offers since June 2020.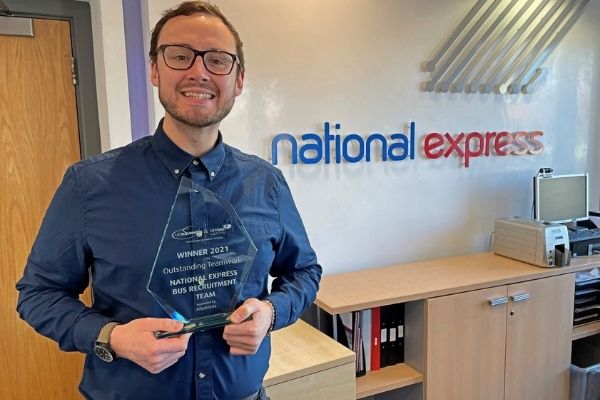 Rachel James, UK Human Resources Director for National Express, said:

"We are delighted to have been recognised by the UK Bus and Coach Awards this year. I am so proud of our recruitment team for facing the recruitment challenges head-on during lockdown.

"Teamwork has proved to be more important than ever in helping us to continue supporting local people into local jobs throughout this pandemic.

"The team has done a fantastic job, learning and adapting the candidate journey and our own processes throughout various restrictions, as well as putting things in place to build for the future."

By March 2020 it became clear that a lockdown was likely. With a recruitment process designed for face-to-face interactions, and our UK recruitment team knew they'd have to adapt. They worked through each step of their recruitment process to overcome and plan for each challenge that the ever-changing demands of lockdown might present. 

As a result of their incredible teamwork, it took just the team just 24 hours to completely transform their existing approach to the recruitment process. By finding solutions and coming up with new ways of working they were able to:
Redesign the assessment process to move face-to-face interviews to online video interviews

Implement a process to progress, track and report on candidates without any face-to-face interaction

Identify ways to keep applicants engaged and ready for a face-to-face assessment to happen again so that they were ready at short notice to attend an assessment centre once restrictions allowed
When lockdown was relaxed in June, the team mobilised Covid-secure National Express assessment centres. And because one element of the assessment had already been conducted by video, the team was able to absorb the drivers' medical into the assessment day. This shortened the time for drivers to receive job offers and also gave a better candidate experience as new recruits no longer had to make themselves available for an alternative date.

A number of other advantages came out of the newly transformed recruitment process. Video interviewing created an additional exit point for candidates who could not progress to the next stage. This resulted in a higher calibre of candidates attending National Express' bus assessment centres and brought overall conversion rates up from 40-45% to 60-70%.

During the pandemic, our recruitment team also maximised every recruitment opportunity they could find. The UK Head of Resourcing took part in several local radio interviews to encourage bus driver applications, in addition to attending local MPs' virtual careers fairs and outplacement partnering.

For details of all vacancies and career opportunities at National Express, visit careers.nationalexpress.com.