New pedal-powered buses help customers save the planet, save £££ and save lbs
We have launched the region's first pedal bus service, providing a new opportunity for our customers to reduce their carbon footprint as well as their calories!
Earlier today, Friday 1st April, our first double decker pedal bus entered into service, helping our busy commuters save the planet, as well as their time and money, by combining their morning workout with their journey to work.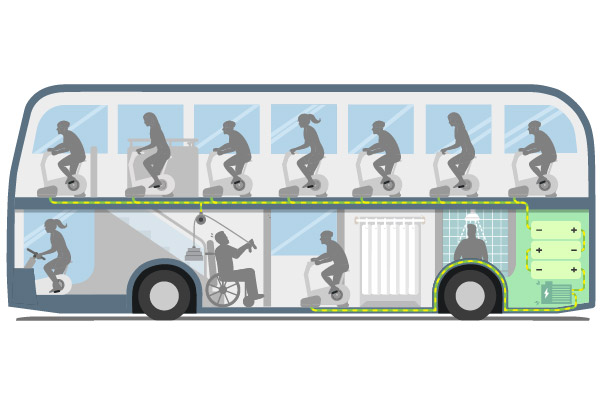 Jemima Bedell, our Chief Innovation Officer, said:
"In 2020 we launched our electric buses, followed by hydrogen buses in 2021. This year, we are excited to be launching our fantastic new pedal bus. 
"We are giving power to the people and providing our customers with more active and sustainable travel choices as we continue our journey towards a fully zero-emission bus fleet.
"The pedal bus uses kinetic energy generated by pedalling to charge the battery, which in turn keeps the bus moving. It really is an excellent way for our customers to play an active part in saving the planet while improving their own health. 
"While it may not be as relaxing a ride for customers, it does help them save money while losing pounds from their tummy. And once the journey is done our customers can relax, knowing that they've chosen a cleaner, greener, healthier way to travel."
As the brand new face of energy saving vehicles, each pedal bus has 16 exercise bikes onboard and provides health-conscious customers with an option to ditch the early morning gym session in favour of snoozing, without the guilt. 
It also boasts an onboard changing room and a shower, so commuters have everything they need to freshen up after their workout before jumping off the bus into work or heading home!