Birmingham community turn bus stops into stained-glass art galleries
Seven new bus stops lining Birmingham's busy Soho Road have been converted into art galleries to celebrate the area's diverse communities and history.
China Plate Theatre artist Nilupa Yasmin has spent months working with local groups to create the dazzling displays for the bus stops along with our 74 route between Dudley and Birmingham.
Reflecting on how our buses continued to run throughout lockdown, ensuring hundreds of thousands of key workers were able to get to work, On Our Way celebrates how, although the 74 route has barely changed, the people who use it and the buildings around it have. The pandemic experience is one episode in its long history.
The stained-glass style wrapping for each bus shelter tells a different story about the area and its people. These include collages created with the Soho Road Business Improvement District (BID) celebrating the range of independent businesses in the area and another, from the Black Heritage Walks Network, highlighting the civil rights struggles of Windrush generation bus workers.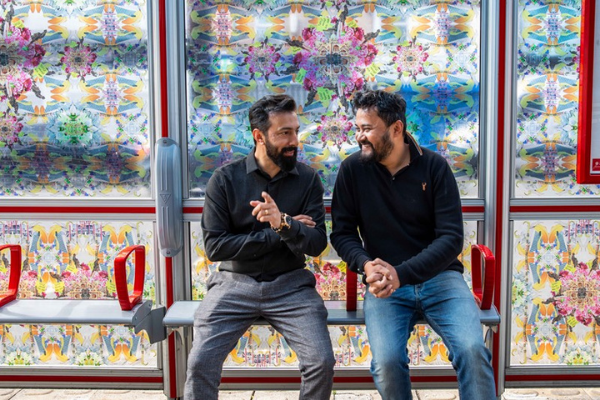 Transport for West Midlands (TfWM), which is responsible for more than 5,000 bus shelters across the region, we have worked with China Plate, Birmingham Hippodrome and Soho Road BID to get the bus shelters wrapped with the designs.
The seven groups who designed the bus stops are:
Soho Road BID – inspired by the variety of thriving independent local businesses on Soho Road,
South and City College Birmingham, 
Holyhead School, 
Handsworth Library, 
the BID Services' based at the Deaf Cultural Centre, 
Handsworth Association of Schools,
Black Heritage Walks Network – incorporating photographs from famous Handsworth photographer Vanley Burke.
On Our Way is presented as part of the Birmingham 2022 Festival and supported with funding from the National Lottery through Arts Council England and further backing from Birmingham City Council, Greater Birmingham & Solihull Local Enterprise Partnership (GBSLEP), Garfield Weston Foundation, and TfWM.
Deborah Bonnique of Handsworth Association of Schools said: "We were very privileged to be involved in the On Our Way project. We pride ourselves on creating opportunities for our young people and local schools to participate in experiences that will leave a legacy within their community. These bus stops are definitely an excellent example of that and can be enjoyed by everyone."
For further information on the project here. 
Bob Balu of Soho Road BID said: "On Our Way has been a success for Soho Road, it has brought art, culture and much-needed rejuvenation to our busy and vibrant shopping district. The Soho Road BID worked closely on this project and welcomed that it accelerated the instalment of 11 brand new bus shelters at stops that desperately needed changing along the 74 bus route in our BID area."
Nilupa Yasmin, artist curator of On Our Way said: "Soho Road is a road that has been a part of many generations. Many elements of art history document the changed landscapes around us and our mini bus stop galleries are telling you all the stories we heard and we want you to be a part of them too."