Bus driver Michael Keen retires after 30 years of loyal service
Our bus driver Michael Keen is swapping driving for digging after 30 years of loyal service at a Yardley Wood bus garage.
72-year-old Michael Keen retires today, exactly 30 years to the day after starting with us on 9th March 1992. 
And while he'll be hanging up his keys, he'll be picking up the garden tools instead as he has plans to landscape his garden at his Wythall home, which he shares with his wife Susan.
Mike, as he is fondly known by colleagues, has driven hundreds of thousands of our bus passengers across south Birmingham and attracted a number of commendations for customer care. 
In April 2019 he also qualified as a Master Driver. Our Master Driver programme was created to encourage and recognise excellence in driving, rewarding those with an impeccable safety record and outstanding driving technique as well as excellent customer service skills.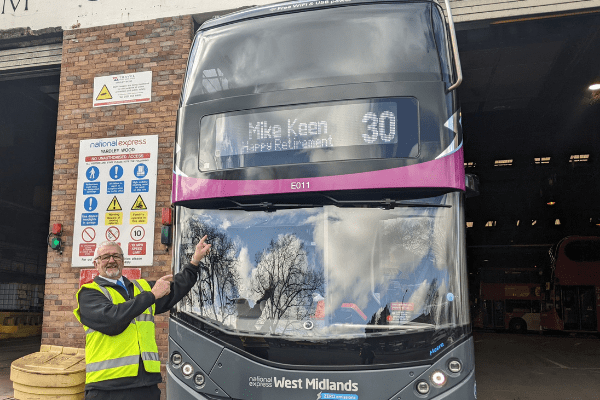 Anybody who has travelled on our local bus routes may recognise Mike's friendly smile as he spent 16 years driving the 35 route between Hawkesley and Birmingham city centre and the 27 route from Maypole to Cofton Hackett. He then spent eight years on the 18 route between Yardley Wood and Bartley Green, serving Kings Norton, Cotteridge and Northfield. 
Mike, who is an avid Aston Villa supporter and season ticket holder, said: 
"I would say my favourite route was the 27 as it runs through Bournville, which is where I used to live. 
"While I have been with the company I have met many new drivers and will really miss the camaraderie among the staff and drivers - many of whom will remain my close friends.
"As I head into retirement I am looking forward to spending more time with my two sons and five grandchildren as well as enjoying holidays with my wife. Like many others, we want to make up for lost time over the last few years."
Sean Borgazzi, our Operations Manager said:
"Mike has been a fantastic asset to our company over his 30-year career with us. He is very well thought of by our colleagues and customers alike. 
"As a Master Driver, he is one of our best. We'd like to wish Mike all the best for a very happy retirement with his family."

We hope you enjoyed reading Mike's journey! Thinking of joining the team? Find out more about our career opportunities here.