National Express West Midlands celebrates Pat's half-century of loyal service
We have honoured a bus driver trainer who has achieved over a half-century of loyal service by naming a bus after him.

Colleagues unveiled the surprise bus dedication to 74-year-old Pat Hughes at an event to mark his retirement, following a remarkable 55 year career with the company.

Originally from Ireland, Pat moved to Birmingham in 1966 and started as a conductor aged just 18. He then passed his bus driving test aged 21 and went on to drive on the bus company's 97 route for almost 40 years before moving into the training department in 2006.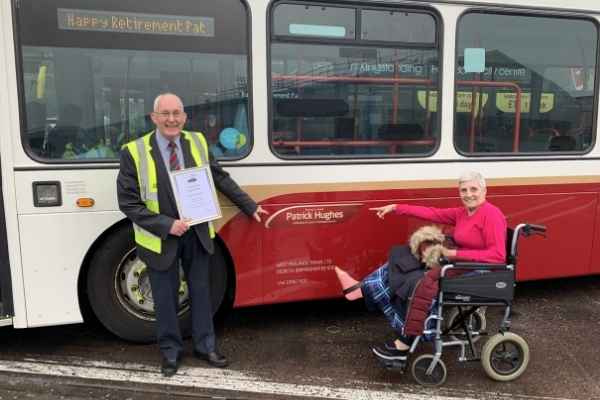 Pictured above: Pat Hughes and his wife Jan

As an integral part of our driver training team, Pat has produced thousands of bus route videos with voiceovers to support other drivers to safely learn their routes and confidently drive millions of bus customers across the West Midlands.

Mark Heffernan, our Operations and Safety Director said:

"As our longest-serving employee we are delighted to be able to celebrate over a half-century of loyal service from Pat by dedicating one of our buses to him. 

"We hope when he sees it out on the road he'll smile and be reminded of the many fond memories during his time here at National Express.

"Pat has demonstrated excellent dedication and commitment not only to the company but also to the thousands of customers and drivers he's helped during the course of his career. 

"On behalf of everybody at National Express West Midlands I'd like to thank Pat for his tremendous efforts throughout his journey with us and wish him all the best for his well-earned retirement." 
 
During his time as a driver Pat competed in Bus Driver Of The Year competitions for 17 years and won the title five times. He then continued supporting the events, using his photography skills to capture the momentous occasions for other drivers taking part in the competitions.

Pat plans to continue adding to his photography portfolio while enjoying his retirement, as well as spending quality time with his wife, Jan and family. 

To find out more about career opportunities with National Express visit: careers.nationalexpress.com.