Where to find the best treats for National Doughnut Week
Although not the most traditional of British treats, doughnuts have captured our hearts over the years and are now a fixture in cafes across the country.
With National Doughnut Week impending, here are some West Midlands regions where you can find excellent doughnuts.
City Centre, Birmingham
Birmingham's city centre has no shortage of excellent cafes to enjoy a sweet treat. However, when it comes to doughnuts, it's tough to top the offerings of Medicine Bakery. Their giant sugar-crusted delights range from the classic, to more off-the-wall ideas like sticky toffee pudding-filled doughnuts or a champagne chocolate cronut! 
Medicine's New Street location can be reached on our 9 Platinum, 12, 12A, 13, 13A, 126, X8 Platinum and X10 Platinum services stopping at Colmore Row.
On the other hand, Medicine's Mailbox location can be accessed on our 82 and 87 Platinum services.
Bourneville, Birmingham
Stickie Fingers is nestled in the heart of Bourneville, offering pancakes, juices, fro-yo, and yes, doughnuts! Their menu is ever-changing day by day so you never know quite what you'll find in this cute, little cafe. However, we can tell you the options are always incredible.
You can find Stickie Fingers' Bourneville location on our 11A and 46 services.
Yardley, Birmingham
A quintessential Insta-worthy cafe, Phat Dough, looks the part but is more than just glitz and glamour. 
Here you can get a great burger, loaded fries, nuggets, even a full English breakfast! And that's before you get to the fresh hand-made doughnuts, milkshakes and cookie dough. Phat Dough is the perfect spot for a meal of all-around indulgence that really packs a punch.
You can reach Phat Dough on our 11S, 11A and 41 services.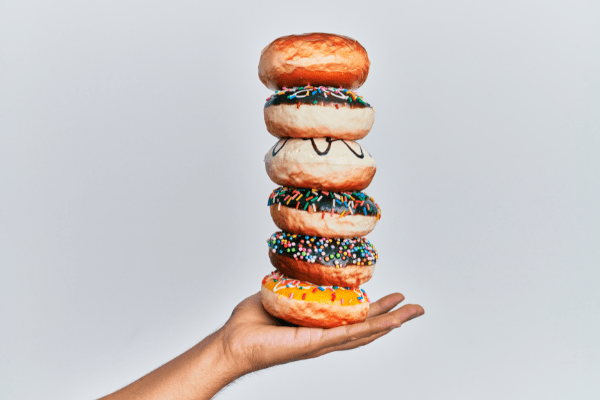 Stirchley, Birmingham
The Pershore Road is home to many businesses, but none offer the doughnut delights of Snack & Dough. This friendly cafe serves up everything from Nachos to ice blasts, waffles, cookie dough and of course, doughnuts. Be sure to try house specials like the 'DoFlurry', your choice of doughnut, topping and whippy ice cream! 
You can get to Snack & Dough on our 45 and 47 services.
Digbeth/Bordesley, Birmingham
Stepping into The Donut Lounge is almost like being in an exclusive nightclub, but better, because they're doughnuts. In The Donut Lounge, you can pair your doughnuts with their finest cocktails, mocktails and even specialty milkshakes.
You can get to the lounge today on our 2, 3, 4, 4A, 5, 6 Platinum Electric and 17 services.
Wolverhampton
For a great doughnut experience on the go, Green Doughnuts is a kiosk situated in the centre of Wolverhampton. With seasonal changes to the menu and even a nomination as Street Food Operator of the Year in the Midlands Food, Drink and Hospitality Awards, Green Doughnuts is a perfect pitstop in the city.
You can find the Green Doughnuts kiosk on our 3, 9, 10, 10A, 10B, 15, 15A and 711 services.
Meanwhile, in Tettenhall, Eden Bakery offers classic cafe vibes and a variety of sweet treats, from doughnuts to brownies, cookies, cakes and more. There may also be an extremely cute dog, just to add to the homely atmosphere.
You can reach Eden Bakery on our 1 service.
Coventry
The perfect lunch spot does exist! Clay Lane's Bread, Butter & Sugar is the ideal place to grab a sandwich and a drink and treat yourself to an incredible cake, pastry, or yes, doughnut! 
Plus, Bread, Butter & Sugar offers purely vegetarian and vegan produce, making it a natural choice for the herbivores in the group.
Find this amazing cafe on our 7, 7A and 7B services.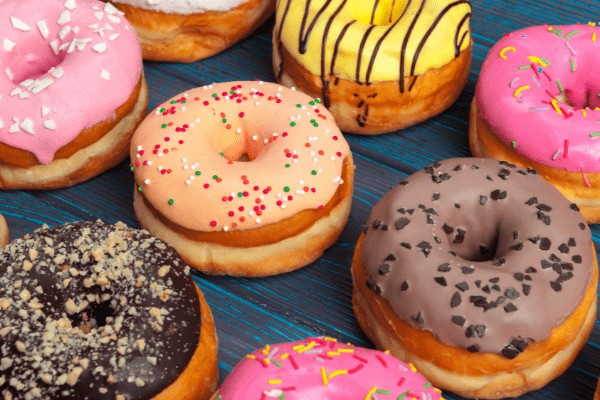 Got any other places you love to treat yourself to a doughnut or sweet treat? Let us know at our social channels below.