British Sandwich Week across the West Midlands
Tell me you're British without telling me you're British! #BritishSandwichWeek is just around the corner and we've put together our top picks for the best sandwiches, wraps, panini's and more across the West Midlands. You cannot go wrong with a sarnie, the question is which sarnie is the best? Whether you want to level up your sandwich with a kicking filling, or want to keep it traditional, we're sure our top picks will keep you craving for more!
But first, let's tuck into some fun facts about our iconic sandwiches… 
Did you know our nation's most popular sandwich is a classic bacon butty? 
Around 12 billion sandwiches are eaten in the UK alone every year. 
According to British Sandwich Week, the term 'sandwich' is named after John Montagu, 4th Earl of Sandwich who claims to have invented the British sensation. 
1) Medicine Bakery, Birmingham & Wolverhampton
Starting off with the most raved about Bakery in the West Midlands, the Medicine Bakery. Perfect to capture a light bite! 
Explore their array of handcrafted, artisan sandwiches. Ideal to share those picture perfect moments on the gram. Discover their most popular 'Medicine' sandwich, not only do they come in massive portions, but generously packed with bacon, fried egg and cheese-y goodness oozing out of the sandwich! 
Now you have discovered the Medicine Bakery, check out their array of desserts, it would be rude not too! Our favourite is the sticky toffee pudding-filled doughnut, or if doughnuts aren't your thing, then try their classic chocolate brownie for a chocolate sensation. 
We bet your stomachs are rumbling with hunger, so check them out at the following locations: The Mailbox - Birmingham, Birmingham New Street and Codsall, Wolverhampton. 
2) Grand Central Kitchen, Birmingham
Next up we have Grand Central Kitchen. Although this is not located in Grand Central itself, this is another great pick for those lunch cravings! 
There's plenty to choose from their never ending list of paninis and hot wraps. Filled with veggie goodness, all you need to do is choose your filling. Whether you choose to play it safe and go for a traditional chicken caesar wrap, or to heat things up, their BBQ wrap is a must alongside with their crispy sweet potato fries! 
With an amazing selection of food at amazing prices, check out why this restaurant is highly raved about by reading their reviews here.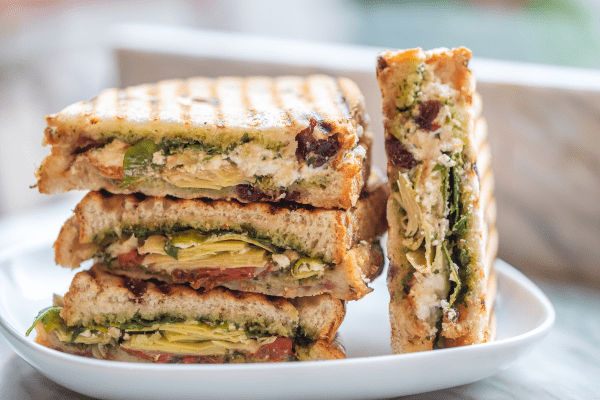 3) Cafe Italia, Coventry
Have you heard about Cafe Italia, located in the heart of Coventry? From freshly served panini's and baguettes to their iconic sandwiches, they will have your taste buds tingling for more.. Our favourite is the traditional club sandwich triple decker! An iconic sandwich packed with chicken, crispy bacon, lettuce and mayo served with crisps of your own choice. Craving for more, or need to satisfy your sweet tooth? Check out their tiramisu for a taste of Italy! 
You can choose to stay in and get this delivered or, even better, you can visit them in Trinity Street, Coventry. 
4) Damascena, Birmingham
If you're looking to spice up your sandwich, you cannot go wrong with Damascena! You can go for a salmon and soft cheese bagel, or why not check out their chicken shawarma flatbread wrap? Filled with marinated chicken strips topped off with gherkins and homemade garlic drizzle. For our vegetarians and vegan lovers, you can hit your '5 a day' by checking out the Damascena special, packed with falafels, parsley, pickled turnips and their special ingredient, tahina yoghurt sauce!
Sounds too good to be true? Check out their lunch menu here. 
5) The Cosy Club
If you haven't had the chance to have breakfast, why not visit the Cosy Club for brunch instead? 
You got to check out the classic 'Cosy Club' sandwich on the softest toasted sourdough bread, stuffed with melted chicken, smoked streaky bacon, plenty of lettuce and tomato served with crispy, finger lickin' fries. The perfect meal to keep you energised throughout the day! Fancy a Fish Finger sarnie instead? The iconic British sandwich is difficult to say no to…  
Find your nearest Cosy Club here.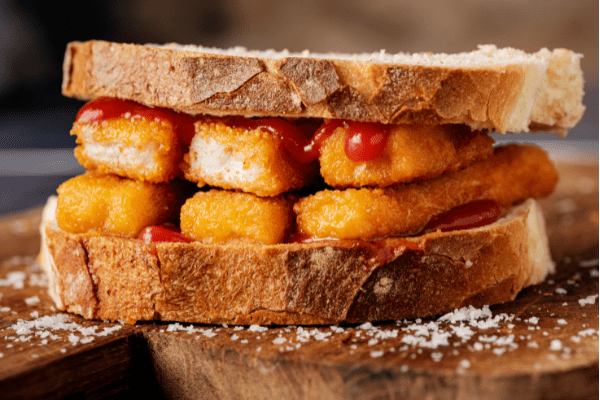 Inspired by any of these places, or are you planning on making your own sandwich? However you're celebrating British Sandwich Week, let us know by tagging us in our socials below!