Tell us about yourself 
Well, I am now into my 23rd year here at National Express - as a driver I have always loved the role. A few years ago I secured a place in the national bus driver finals in Blackpool. The national competition had a big impact on me - here I met many bus drivers from all over the UK. I owe a lot to this competition. It has inspired me to help, guide and coach other drivers on improving their own driving styles and techniques, and ultimately to have a safe and enjoyable career with us. 
How long have you worked for bus, and how long have you been a driver training officer?
I'm into my 23rd year now. 17 years as a full time bus driver at our Perry Barr garage, four and a half years as Master Driver Manager at multiple locations. Now I am currently five months into my latest role as a Driver Training Officer at National Express Coventry.
Have you always been a fan of buses?
No, I had no interest in buses whatsoever until I joined National Express. Now I am what you could call a 'bus nut!'
What made you choose to work for National Express?
I had no real desire to be a bus driver, I only joined in 1999 during a major recruitment purge at that time. My initial intention was to join up for a couple of years while contemplating my next career move. However, I instantly fell in love with the job, and here I am almost 23 years later!
What does an average day at work look like for you? 
Well, at this moment in time it looks very much like Mount Everest, but this is actually a good thing, as it makes my current role more challenging and interesting. Almost every day now I will help out with some part of a driving duty (helping sort out Rotas, or even driving a bus!), then after that, there are the DriveCam coaching sessions that need to be conducted, training new and existing drivers on route changes, carrying out driving evaluations, creating action plans, the list is endless. 
Quite recently I have been giving a helping hand with driver recruitment - this I have enjoyed very much as it allowed me to meet our new and potentially award winning future bus driving workforce.  
What does bus travel mean to you?

To me it means the FUTURE of transport for absolutely everyone. Bus travel helps reduce congestion and lower pollution. I use buses myself as part of my commute from Birmingham to Coventry every day. 
We have heard that back in the day, you had a feature in a famous children's TV programme?
Yes, this appearance in this classic children's TV program 'Brum' still comes back to haunt me every so often (ha-ha) Before joining NX I used to work for the Co-op as a fresh food supervisor (hence the white coat in my appearance on the show) It was back in 1994 that this was filmed - I was a lot slimmer and had a full head of hair back then, gosh! I miss those days!
The episode is only about 20 minutes in length but took about three full days to film. I was asked if I wanted to take part in the production and I was only too happy to participate. The whole production was filmed without sound, the sound was put on later in the post production stage with pop singer Toya Willcox doing the narration. So, the part where you see me waving and saying "goodbye Brum" - that's not me on helium, that's Toya doing my voice over.
I'm also credited in the closing credits as 'Shelf Stacker - Darren Dunbar' - my claim to fame!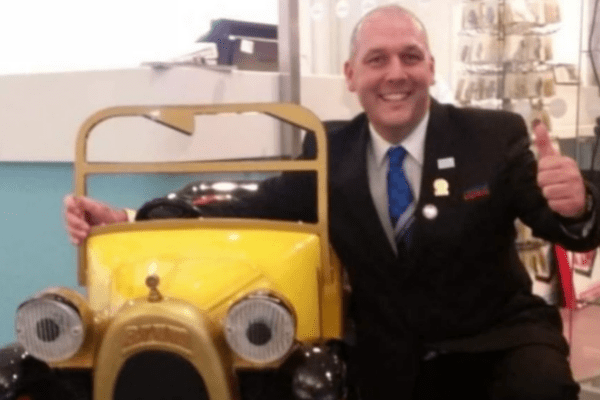 What has it been like working during a pandemic?
Personally, I did begin to wonder if we would ever see the good times again. But that fighting spirit that exists in so many people here at National Express bus has never waned, and thankfully things have started to grow again and hopefully we can continue to deliver our first class service to the general public, and see our business grow to even higher levels than ever before. 
Who is your biggest inspiration?
It has to be our bus drivers here at National Express bus delivering one of the most demanding and important job roles that we have in this country today. 
Feeling inspired by Darren and his bus journey? Join our driving team and see all of our current driver roles and apply today. Want to read more? Explore more posts from our Q&A blog series below.