Coventrian's skills secure top spot at UK engineering challenge
Craig Perkins, Engineering Technical Trainer for National Express West Midlands, has been named best Mechanical Technician at a national IRTE Skills Challenge award ceremony.
32-year-old Craig, from Coventry, secured his top spot by demonstrating his skills, knowledge and quick-thinking during the IRTE Skills Challenge competition in June. Craig achieved the highest score against his category competitors from across the whole UK bus and coach industry. 
Competitors had to complete a range of practical and theory tests and Craig was able to quickly diagnose gearbox, brake and caliper faults while clearly and easily explaining how the faults occurred. His speed and problem-solving skills were again put to the test when he was challenged to set up a valve clearance on an older engine model.
When asked how it felt to win his award, Craig said:
"This has to be one of my proudest achievements in my working career - I never thought I would even get close to the top ten, never mind win the whole category.
"It was a team effort so I want to say a massive well done to Chris and Glenn who were there with me. We all helped each other in any way we could and I'm really proud of the whole team."
Lee Sandford, Engineering Training Manager for National Express West Midlands, said:
"The entire team performed fantastically throughout the competition, applying the skills and knowledge from their respective trades to exceptionally high levels. 
"I am extremely proud of them all for having the confidence to put themselves forward and be part of the event. Their achievements bode well for future competitions - bring on next year's challenge!"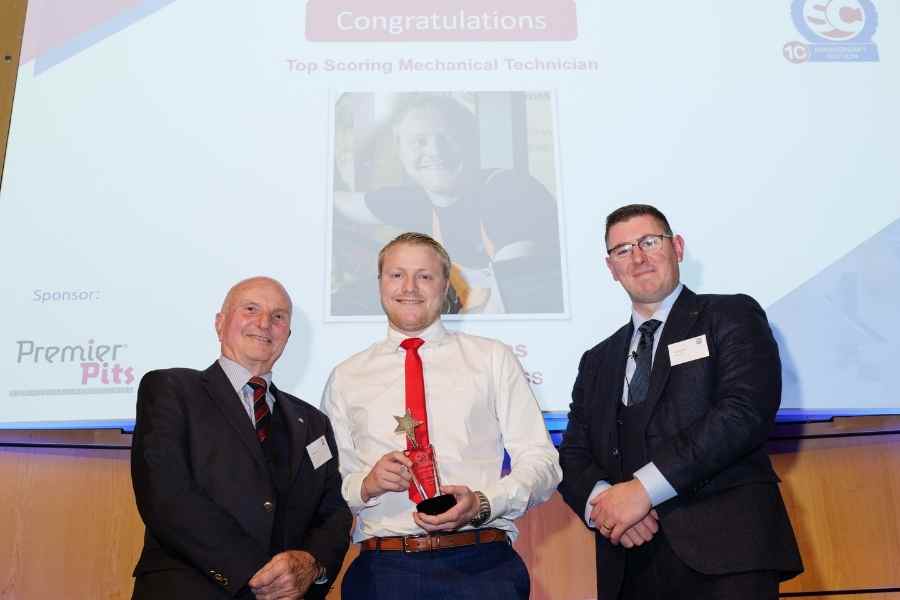 Image: Craig Perkins pictured receiving his award.
In addition to his win in the Mechanical Technician category, Craig was named runner up in the Inspection Technician category. And his National Express team members were also recognised for their achievements. Bodymaker Chris Little was runner up in the Bodywork Technician category and Glenn Danks, who is a Mechanic by trade, did brilliantly in the electrical category.
Craig started his career with National Express 15 years ago when he was just 17. After working in a customer-facing role he went on to the company's apprenticeship scheme, qualifying four years later and starting as a Fitter. In 2016 Craig briefly left the company and worked as a DVSA Vehicle Inspector before returning to National Express Coventry as an Engineering Supervisor in 2018. Craig now uses his passion for sharing knowledge as part of his role as an Engineering Technical Trainer.
The 10th IRTE Skills Challenge was held earlier this year, with the award ceremony taking place at the Williams F1 Conference Centre in Didcot on Thursday 21 October 2021. The awards were presented by Adam Fraser-Hitchen, President of the Society of Operations Engineers (SOE).