National Express West Midlands and Chuckaboo partnership supports local transport museum
We have teamed up with a young, Black Country designer to produce some stunning new bus-themed prints for Transport Museum Wythall - because everybody loves a bit of transport merch.

Chuckaboo Creatives started working with us in early 2020. They have designed some bespoke greeting cards and a unique poster print which showcases our stunning heritage livery fleet. 

The brand new merchandise is now being gifted to Transport Museum Wythall to support them with the vital funds needed in order to continue their important work with vehicle preservation.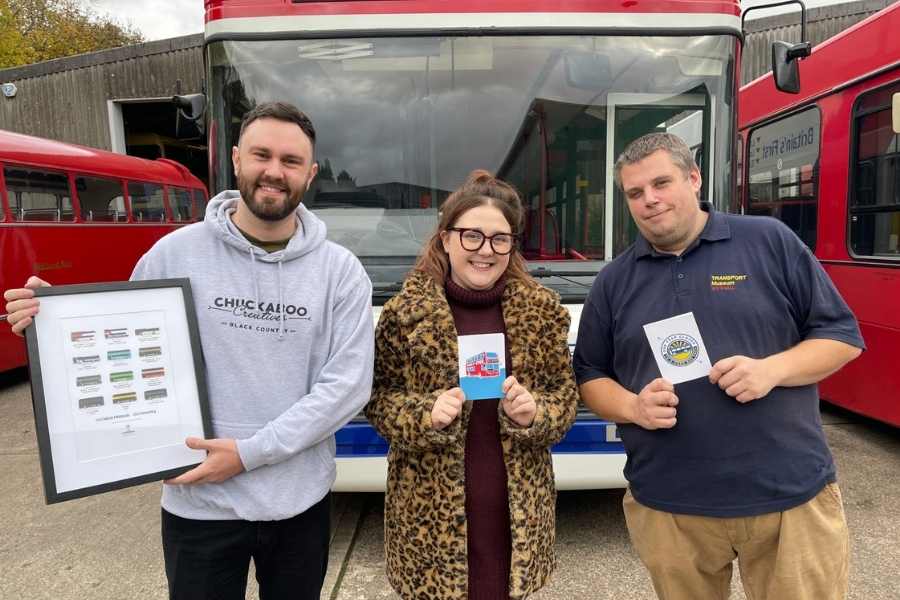 The original prints and greeting cards will be available for the public to buy at the museum's end of season Twilight Day event, which takes place on Sunday 31 October 2021 as well as on the museum's website www.wythall.org.uk.

Twilight Day is the finale of Transport Museum Wythall's 2021 event season - a tradition in the world of transport events, the clocks turn back with atmospheric twilight bus rides into the autumnal dark evening and the nostalgic glow of old fashioned lighting. Gates open at 11am and close at 6pm with free bus rides every 30 minutes.

Beth Smith, Marketing Executive for National Express West Midlands, has been working with Chuckaboo Creatives since the start of the pandemic. She said: 
 
"I have really loved working on this collaboration with Chuckaboo Creatives. Luke is such a fantastic graphic designer and he's from the Black Country, so it's been great to work with such talent from my local area. 
 
"We all wanted to do something a little different, and more importantly, to support another local organisation. We are delighted to finally be able to launch this unique new merchandise with Transport Museum Wythall. 
 
"100% of the proceeds from this collection are being sold and collected by the museum. We hope this will help them to continue preserving their fantastic bus fleet and support events during 2022. Here's to getting one year closer to a free bus pass!"
 
Luke Reader from Chuckaboo Creatives said:
 
"With the impact of the pandemic and staying at home, my partner and I found ourselves putting our creative minds together and that's when Chuckaboo Creatives was born. We wanted to design and produce our very own greeting cards that were unusual and quirky - with some designs influenced by our home town, the Black Country.

"Our poster and cards at the Transport Museum would make a great gift for anybody who is interested in buses. The museum is such a charming place to visit, it was great to see our designs in their gift shop.

"We've had such a great time working with Beth from National Express West Midlands and it's been a really lovely experience producing some amazing designs for a great cause."
 
Dean Howdle from Transport Museum Wythall added:

"Transport Museum Wythall is extremely grateful to National Express West Midlands for their donation of cards and posters. The merchandise will provide a great boost to our income as the season comes to a close. We look forward to continuing our strong relationship into 2022."

Transport Museum Wythall is an established, independent, working museum which first opened to the public in 1980. As a 100% volunteer-run registered charity, beyond its entrance ticket charges and cafe and shop sales, its funding relies on donations, sponsorships, grants and a dedicated group of volunteers who regularly give up their time and skills to operate and maintain the museum and its collections.

For more information about Transport Museum Wythall visit www.wythall.org.uk. To find out more about Chuckaboo Creatives visit www.chuckaboocreatives.com.